Price

RM380.00

RM388.60

Product SKU
3M-88-NA5
Brand
3M
Availability
2
Quantity
Description
Highlight
3M™ Scotchcast™ Premium Resin Cable Joint Kits feature Scotchcast™ Electrical Insulating Resin 40, which is a high-quality two-part compound designed for general-purpose electrical insulation, moisture sealing, and mechanical protection.
3M Scotchcast resin splicing kits utilize a two-part polyurethane infill compound which is 100% solid, electrical grade, and hydrolytically stable insulating resins that exhibit good adhesion to plastic, XPLE, PVC, nylon, and all types of metals. Once cured, the resin combines good durability with excellent protection against moisture, salt, oil, and any type of chemicals.
The kits utilize the express one-part mold body, saving time and cost through extra fast setup.
The closed mix pours feature eliminates the chance of skin contact thus increasing user safety and minimizing wastage from spills.
Applications are suitable for indoor, outdoor, underground, and submerged areas.
Other separate kits include the 3M™ Scotchcast™ 92-NBB-U Series which have an express two-part mold body and feature 3M™ Scotchcast™ Insulating Resin 1402FR which is a flame retardant,halogen-free and remains virtually affected by immersion in hydrocarbons and chemical solvents.
Specs:
Min cable OD(mm): 35mm
Max cable OD(mm): 60mm
Cable conductor size(mm2): 120-150mm2
Application:
3M Scotchcast resin splicing kits are designed for indoor, outdoor(weather-exposed), direct buried, or submerged applications. It encapsulates all types of cable joints, power cables, telecommunications, and fiber optic cables, with copper or aluminum conductors.
Features:
Scotchcast resin MR408 is tested and certified to CENELEC HD 631.1 S2 standard with LMP-W and MMP-W classifications. It has a low exothermic reaction temperature.
Properties of cured compound:
Appearance: Dark Solid
Density: 1.05-1.07g/cm3 (ISO 3675)
Volume shrinkage: 3.8% (ISO 3521)
Tensile strength: 3.2MPa (ISO 527)
Water absorption: 0.15% (IS0 62)
Dielectric strength: 200kV/cm (IEC 243)
Hydrophobic behavior: Passed (HD 631.1 S2)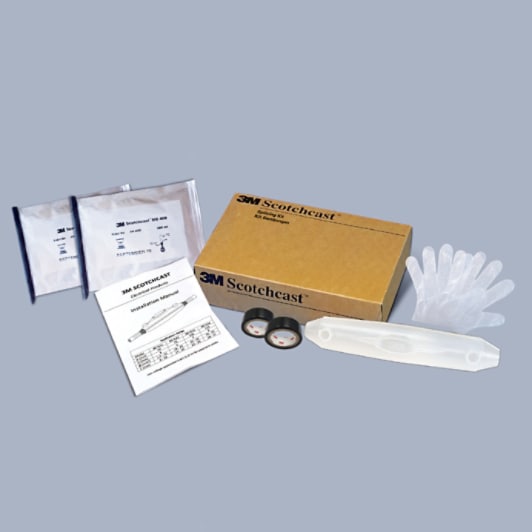 What's in the box
ScotchcastTM resin bag, Mould body, PVC tape, Disposable gloves, Detailed instructions.
Customer Reviews

[12 PAIRS] KIMBERLY-CLARK™ PROFESSIONAL KLEENGUARD™ G40 BLUE FOAM NITRILE-COATED GLOVES
23 April 2020